Here's my feedback about the MOOV NOW wristband that I bought when the pre-sales started back in August 2015.
Why now, I'm already wearing this thing for month now?
Well, the battery is empty. Basically there's nothing wrong with an empty battery, but in this case I would expect a notification on my phone saying either "Your battery is low, you should change that thing" or "There hasn't been a sync since one day". A couple of days ago I wanted to check my sleep time and the app said "Last synced Mar 4" and I was like "WTF?", then I pressed the sync Button .. and nothing happened any more. So, it's not only that I haven't synced in 2 days, I don't even know when the devices stopped tracking my activity at all :(
Expectations not met ...but good marketing
When I first read about the MOOV NOW, it sounded like the perfect sports tracking device. It was affordable (only 50$ in pre-sale), has activity tracking, sleep tracking, possibility to connect more than one device at the same time, has special move data analyses for running, cycling, swimming and so on.
The first thing that I was wrong about was, that this device is a sports tracking device. It's not, it is a fitness coach! And this coach is only capable of 5 different sports: Running, Cycling, Swimming, some sort of workout and cardio boxing. Also the sleep tracking functionality let me think it would have a sleep alarm. This function would check my movement in the morning and decide within a 30 minute range when to wake me up. Nope. It's on the user wish list, but doesn't have a high priority yet.
Since I already have a fitness coach (I'm a "Free Athlete" ;) ) I don't need another one. I go running and cycling so I thought I could use this "better tracker". "Better", because MOOV says that they do special analyse on the moves of the sports they support because of the 9-axis Omni Motion™ sensor. I believe they do and they probably do better than the others (just my feeling, no facts here, sorry), but it only works with the MOOV app.
Hardware
The rubber band seems to be the best decision MOOV made. It's flexible, not too tight, never fell off during my workouts and I wore it several months straight without having any problems. The design is ok, but since you have a device tied to your wrist all the time some little info like the current time would be nice to have.
The best thing about it: It's waterproof and dust resistant, you can basically wear it everywhere (I guess except diving).
The annoying part of the device is: exactly for the both sports I do (well, the both that I do and MOOV offers), you have switch the device from your wrist to the ankle. MOOV ships with a small and a large band so you always have a band that fits, but changing the sensor while you're wearing the band is very complicated.
That's were I thought: "Let's get 2 devices", because there's support for 2 right? Wrong! I really thought, having 2 (or more) devices simultaneously tracking my activity would increase the accuracy and the measuring would be better. That is not the case. The only MOOV workout that supports 2 devices is cardio boxing. I could connect a second device for running, but then my first device wouldn't be connected any more. I didn't try that scenario to be honest, maybe I should ... I'm wondering what the app will do if it get's data from 2 devices of the same time frame.
Software/App
The app (I'm using the iOS one) looks pretty nice. Good and clean design in my eyes and I had no crashes or freezing issues yet. But, I'm asking myself: What does the app do that justifies an app size of 148MB? I'm an app developer myself and I'm really curious about what this app does under the surface with a code size that is that big. It could have to do with the data analyses part of the sensor, but since the data movements are bound to only five specific sports, I'm wondering if that would need so much business logic.
EDIT: Rethinking about what the app does, I believe the size has to do with all the audio files they need for the workout feedback.
The syncing in the background could be working better. On some days the device didn't sync for 8 hours or more, and I'm a 100% sure that I used my smartphone (waking it up) during that time. It looks like the sensor does some kind of push request and if the device isn't awake at that time, it won't receive the data.
What I'm really missing is a part were I can enter my custom sport that I did. This would be an easy part of the software and it already has that part for sleep tracking: You can add sleep periods to your activity manually .. you can't do this with a custom sport activity. E.g. "Tuesday night, 8pm to 10pm: Basketball" and then some little custom icon displaying in the activity timeline. The following screenshot is some activity where I did the running part with the app.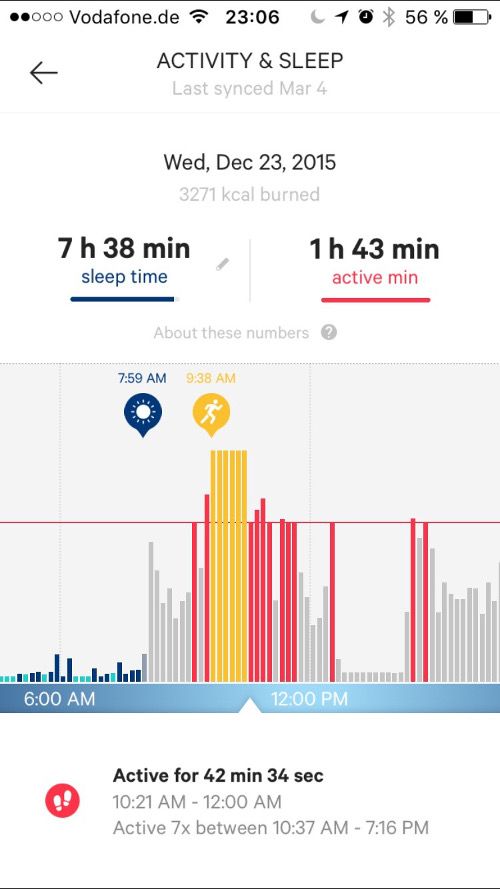 The whole thing
Looking at the hardware and software together, there's a big downside: The app is doing too much work, hence: except for swimming, you always have to have your smartphone with you. I don't know why MOOV didn't think of indoor cycling or just running on the treadmill. If the app doesn't get a GPS signal or the signal doesn't move, the activity doesn't get tracked. I mean, they already have some algorithm doing this for swimming, so why not for running and cycling?
Conclusion
If you want a digital fitness coach and the 5 sports are exactly what you love to do, got for it! The device is good, the app is nice and stable and you also get some digital rewards.
If you're looking for a sports tracker, get something else, maybe Fitbit or something similar.
Maybe I just want more than you can get for 80$ (regular price) but I think, with just some small software improvements like entering a custom sport activity, the experience could be enhanced and the target audience could be more diverse even if they just like one sport that MOOV offers.
I'm really disappointed about the missing sleep alarm and that the multiple sensors are only supported by cardio boxing. I really thought that MOOV would have that when I ordered my devices.
Also the indoor part should be improved so that I can collect sensor data even if my app has no GPS signal.